Marian Van Horn
---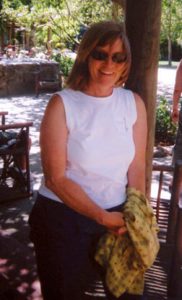 A year and a half ago, I realized that I was paying high rent and investing in someone else's future. I started to look around for something to buy and the agents I called didn't seem interested in helping me, maybe because I didn't have a lot of money to spend. One day I was looking in the paper for properties and saw one in my range and area, and the real estate agent showing it was Melody Montero. I called her and immediately she was "on my team." She called me back to update me on new condos that became available, she talked to me when I got worried about things, and she never pushed me to buy something. At one point I even told her I wasn't sure I wanted to buy a house anymore because it was too overwhelming, and she honored that and told me to call when I felt ready.
Then about a month later I decided that I needed to get on the ball and buy something, so I called out of the blue one day and she jumped on the computer right that minute, and a house that we had looked at before and that I had liked, was back on the market. We went and looked at it, bid on it and I was moving in a month and a half later. She had to hold my hand during the process (but at the same time not let me know that she was) and all my friends said, "Melody really knows how to work with you," and I had to agree. She just intuitively knew when to be there and when to back off.
But, what I appreciated most of all was her genuine concern for my welfare. Being a single woman she was concerned about finding a safe place for me and a mortgage that wouldn't be too wieldy for my income. So, even though I had heard nightmare stories about real estate agents, Melody did not fit that picture at all. I could tell that she really truly cared about me as a person.