The Johnson Family
---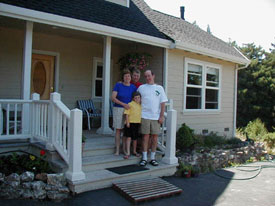 For those who are in need of an excellent Real Estate agent.
My wife Jennie and I found out that we would be moving to Sonoma County due to a job change. It was already July and this left us very little time to buy a new home before the children would start school. After calling several real estate companies, we were convinced that we would have to rent due to the "hot market". Agents were suggesting that the price range we were looking in would be next to impossible to find something.
Toward the end of July, we traveled down to Sonoma County to find something to rent. I met Melody Montero and I liked her immediately. She was so full of energy, patient with my kids, and optimistic that she could help me find something. She even offered to find a rental as we were looking for a place to buy. We looked at many houses for sale and came to the conclusion that we would have to build from scratch.
Every time we got disappointed or down about our search, there was Melody bolstering our spirits. The night before we were scheduled to leave for home, Melody called saying she found something that had possibilities. Right away we liked the place, so we went back to the office and made an offer. It was after office hours, after a long day for all of us that we finalized our offer. Through it all Melody was thorough and professional.
The next day we returned home knowing that we were at just the start of the real estate ride. We knew it would be a difficult transaction due to the distance. As it seems in all real estate deals, there was the usual back and forth between the parties. Just when it seemed we had the deal in hand, the sellers came back with a counter offer. With Melody's support of our every move, we held firm and the offer was finalized.
Now we had to arrange all of the inspections. In Sonoma County this is a complex task as wells and septic were involved. To make matters worse, we needed assurance that we could expand the building to a 5-bedroom house. Melody made all the arrangements and oversaw all of the inspections. She worked tirelessly with the title company and my mortgage broker to assure that the deal would not fall through. Instead of an attitude that we "have it in the bag", Melody was conservative and responsible. It was through Melody Montero's efforts that we were able to get our dream home in Sonoma County.
In conclusion I would like to thank Melody for all her efforts. After our real estate deal, our family considers her to be our friend. Unlike my previous painful real estate transactions, it was actually fun to buy a home with Melody Montero. I heartily recommend Melody to the world.
Sincerely
Jim Johnson