The Cruz-Luna Family
---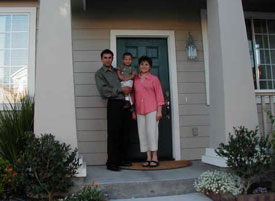 We heard about Melody Montero through one of our relatives who had bought their house with Melody's help. Melody was very patient with us and helped us find the home we wanted. In spite of language differences she managed to explain the entire process from beginning to end. She also explained to us every one of the documents that needed to be signed. Most important is that she guided us to find a house in a good neighborhood.
When we finally bought the house, she kept in contact with us to make sure that everything was going right.
My wife and I are very happy. Besides finding the perfect house, we met an exceptional person.
Thanks Melody!
Alejandro & Rosario Cruz
Conocimos a Melody Montero por medio de unos familiares quienes habian comprado su casa con la ayuda de ella. Melody fue muy paciente con nosotros, nos ayuda a encontrar la casa que nosotros queriamos; A pesar del lenquaje, ella buscaba la manera de comunicarse con nosotros, explicarnos el proceso desde el principio hasta el final. Ella tambien nos explico cada unos de los papeles que se necesitaban firmar, ademas de guiarnos a encontrar una casa en un buen lugar asi como las ventajas y desventajas de cada una de ellas.
Cuando al fin compramos la casa, ella siguio estando en contacto con nosotros para asegurarse de que todo astuviera marchando bien…
Mi esposa y yo estamos muy contentos; pues no solo encontramos la casa perfecta, sino tambien una gran persona en Melody Montero…
Muchas Gracias Melody!
Alejandro y Rosario Cruz